Lakes Area Bike Club
The Lakes Area Bike Club is a group of recreational cyclists who ride together on Tuesday nights throughout the summer in Minnesota.
Here is some information about the club:
In the Lakes Area Bike Club, there are no dues or officers, only a small fee for members to cover the website cost. We try to keep the club simple and not too complicated. We do most of the communication through this web page, emails,and Facebook (Lakes Area Bike Club). We ride in various towns in the Lakes area including Brainerd, Fargo, Ashby, Detroit Lakes, Sebeka, Menahga, Vergas, Frazee, Battle Lake, Ottertail, Dent, Wadena, Perham, New York Mills, Staples, Deer Creek, Walker, Wolf Lake, Clarissa, Henning, and Parkers Prairie. We set a schedule at the beginning of the season and a cyclist from each town will be in charge of the ride for the week and get the honor of being the "ridemaster". The ridemaster plans the ride and produces maps for the riders.
One of the reasons for the success of our club is that we always try to welcome and encourage new riders who prefer riding less than 15 miles. Every ride will provide at least two choices for route length. Another reason for success is the varied locations and informal sharing of responsibilities. We encourage use of helmets, but do not require them. We usually gather as a group after the ride at a local restaurant for socializing and refreshments.
For more information, you may contact:
Staples/Motley Area:
Bob Hamann
218-894-3139
Perham/Vergas Area:
Pat Puetz
218-565-2906
or pat81452@hotmail.com
Detroit Lakes Area:
Glenn Gifford
218-280-8859

New York Mills/Wadena Area:
Greg Jacobson
218-385-3976
or 218-631-3120
Lakes Area Bike Club Members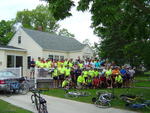 Itasca State Park Fall Ride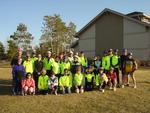 Lakes Area Bike Club members welcome you!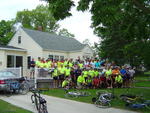 Lakes Area Bike Club members welcome you!